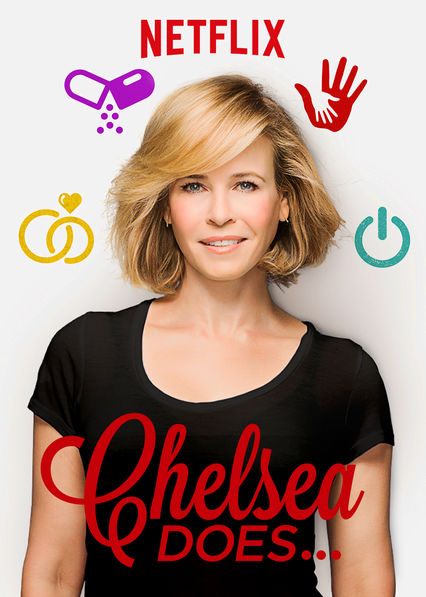 A surprisingly sober – while still hilarious – documentary series by Chelsea Handler challenges modern American tropes of Marriage, Technology, Racism, and Drugs. Prognosis? America is one kooky nation yet Hope reigns supreme.
SnapShot Plot
Chelsea Does is an original 4-part documentary series on Netflix which may surprise her legions of fans who have come to expect the same brand of irreverent and crude humor which was abundant in her late night and stand-up shows. Although she certainly plays lots of Chelsea Does for laughs, this is a real departure in that Handler seems to be more than willing to shine the spotlight on her personal life and that of her family and friends, as she tackles subjects that have confounded not only her but all of us, really.
Take the first episode on Marriage, for example. In candid conversations around the kitchen table with her siblings and widower father back in New Jersey, the comedienne reveals more than you would expect about the way she was perceived and hence labeled early on by her parents, and although the revelations are funny in the telling all these years later, it does give one pause. Or in the many snippets of an hilarious dinner conversation with close friends, including Jason Biggs, where she wastes no time outlining her many fears and negative attitudes regarding the institution of Marriage, wondering aloud about her own personal flaws as they may relate to her feelings. The episode has her interviewing a class of young schoolchildren, visiting a famous Vegas wedding chapel, attending a wild bachelorette party, and hanging out with her best friend, smart-talking actress Mary McCormack. As well as a relationship expert, a pair of Hollywood matchmakers who call themselves Stellar Hitch (Handler: "That's the name? It sounds like a towing company!") and a variety of married couples which run the gamut from Gays to Indians to Orthodox Jews. Oh and let's not forget the S&M triple play she encounters. . . And through it all, Handler's irreverent take on what she's seeing and hearing is matched by a sincere curiosity which amounts to an almost anthropological exploration into the diverse perspectives which comprise the American experience.
Parting Shot
Directed by Eddie Schmidt and produced by Morgan Neville, the series is packed with appearances by the likes of Margaret Cho, Khloé Kardashian, Leah Remini, Willie Nelson (can you guess which episode he's in?), and even Al Sharpton, among others. It's funny and engrossing and leaves you scratching your head about lots of things we seem to hold so dear for the strangest of reasons. I guess the bottom line is that it's kind of a zany handbook on Modern Life, as only Chelsea Does.
Norma's Streaming Picks is proud to announce squatters rights on a new site for Baby Boomers, Midcentury/Modern as well as right here at home. I invite you to go there for more great content!
YouTube Trailer: https://www.youtube.com/watch?v=bcIAMiH6bIE